PM Solutions Christmas Event & Two Cities Tours
$1600 – 1 Person 
$2800 – 2 People – (Sharing the same room)
November 15, 2021
- November 19, 2021
Price: $1600 Includes: Hotel,PM Solutions Pro Events & Private Trip from Aguascalientes to Guadalajara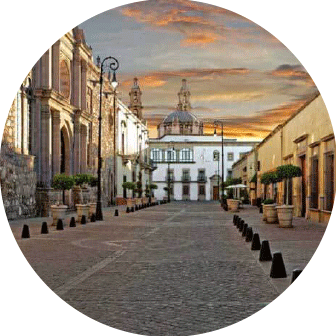 Aguas
calientes
In Aguascalientes you will experience the sensation of being in a glorious colonial era with a tour of its amazing colonial square, cathedrals, gardens, bullfighting arena, and the famous plaza where they hold the world-renowned San Marcos Fair.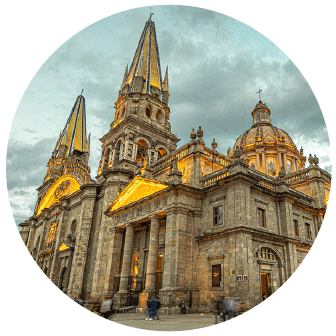 Guada

lajara

Guadalajara possesses exceptional beauty, the streets reflect a Mexico full of mariachi, tequila, and traditions. Its downtown hosts beautiful temples, monuments, and plazas. Within the tour, we will be visiting the historic city center, Neoclassical-style Degollado theater, Hospicio Cabañas, one of the most emblematic buildings, and Tlaquepaque a Pueblo Mágico (Magical Town).
You can invite your remote workers to join us whether or not they've been hired through our placement service. 
Upon request, you can purchase 1 City tour for $700 that includes 1 night's hotel, a city tour, and an Individual Christmas Event ticket.
Price: $300 for the first ticket, $200 for any additional tickets.
If you do not yet have remote workers you can still join in the fun. Get an idea of what they're like by meeting the ones that will be joining us and see for yourself in a fun social setting how great and beneficial they could be for your company.
City Tours: 
Price:
$1600 – 1 Person 
$2800 – 2 People – (Sharing the same room)
4 Nights at a 4.5 Star Hotels, 2 PM Solutions Pro Christmas Parties including 2 Lunches, Bowling and Laser Tag, Private Trip from Aguascalientes to Guadalajara, Airport Arrival Pickup,  Breakfast each morning, Dinner at Thursday Night, professional Bus Tour Guadalajara & 2 Happy Hour Events.
Christmas Party for Remotes: 
Price: $300 for the first ticket, $200 for any additional tickets.
Christmas Lunch & Drinks + Christmas Fun Event & more drinks.